Fireworks Shop is open but please wear a face mask. We also offer a CLICK and COLLECT SERVICE (Free Delivery available on orders over £300 within 10 miles of KT16 0QW), Simply, Create a shopping list, send the list, either print your list or make a note of your list code, Come to the Shop, Collect your order, Pay on Collection at your car. We are open for collection 7 days a week 9am - 1pm and 2pm - 5pm.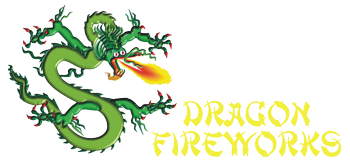 Managed Firework Displays
Dragon Fireworks can help you make that special day or corporate fireworks display truly memorable - we are only a phone call away!
We are a fireworks display company specialising in corporate and private firework displays and pyromusical events.
As a leading fireworks display company based in Surrey, Dragon Fireworks has devoted its time and experience to creating corporate firework displays and pyromusical events that are beyond the normal and are truly incredible. We pride ourselves on working with you to create a unique and magical experience for you and your audience.
We are specialists at helping you create your own truly individual display because our skills stretch far beyond that of the normal standards expected of other fireworks display companies.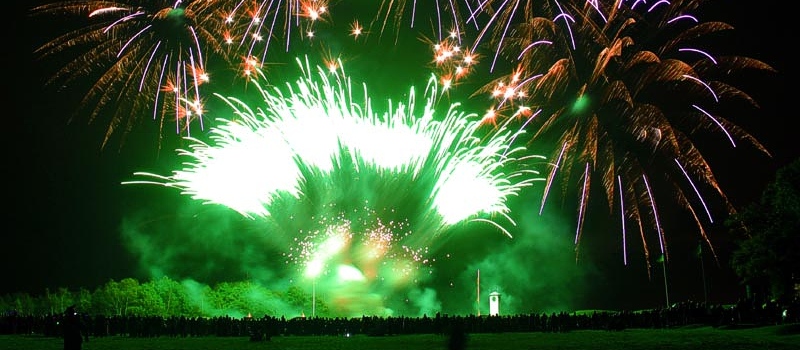 Flexible
Our success as a fireworks display company is down to our flexibility. We are happy to organise and produce displays for as little as £750, but also we are equally happy to do much larger and more comprehensive corporate firework displays and pyromusical events. In short, if you are planning that special party at home, or you are the MD of a large corporation planning a "Big one", then we can make your big party or corporate firework displays a success.
Detailed Planning
Phone us. We arrange to meet, at your convenience, to discuss your needs. We will carry out a site visit and safety audit. A display-firing plan will then be produced and discussed with you in detail to ensure that you know exactly what to expect. We will discuss sound, the type of display and duration.
Adding Music
Wonderful firework displays are, like the best pieces of music, dramatic, full of emotion, inspiring and timed to perfection. That's why we add music to our corporate firework displays to create memorable pyromusical events.
State-of-the-Art Technology
Dragon has invested in the world's most advanced computer aided "firing system" This enables us to produce a display that is truly choreographed to music. Many companies will tell you that they can do this and to a certain extent, they can, but the firing system that dragon has adopted brings a new meaning to a "well timed bang"! And after all, that's what it's all about.
Noise Sensitive
As a leading fireworks display company, we specialise in producing displays in difficult and noise sensitive areas. We are able to produce "breath-taking" displays and pyromusical events, choreographed to music, utilising "quiet fireworks"!
A New Dimension in Special Effects
We have taken the art of fireworks to a new level by incorporating exciting special effects.
These showcase all the usual fireworks that you will have seen at national and international events, plus we have created our own new and exciting elements that are exclusive to Dragon, including:
Dragon Flame - your guests will see and feel the effects of this visual wonder!
Silver Wall - another visual effect that will both excite and amaze!
Our simple promise - to entertain and inspire with fire
To achieve this, there are three key elements we must provide to make the firework display work for you, the customer:
Safety
Quality
Quantity

Safety
We always have a minimum of two Dragon staff firing a display and our firework display Firing System, FireOne, allows us to disable effects or positions if necessary, while the show is being fired.
Typically used wooden racking systems to launch fireworks may fail if a firework malfunctions or bursts at ground level.
The big danger here is fireworks being launched into an undesirable area. For this reason, we have developed a specialized metal racking system to ensure that the fireworks only go where we want them to go.
The Roman Candles and Single Shot Candles are all fixed to metal frames.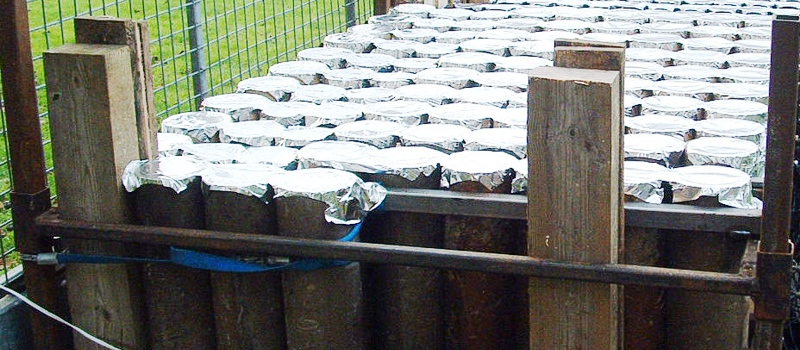 We also use shields in front of our low level fireworks, like the Roman Candle Batteries and the Display Cakes.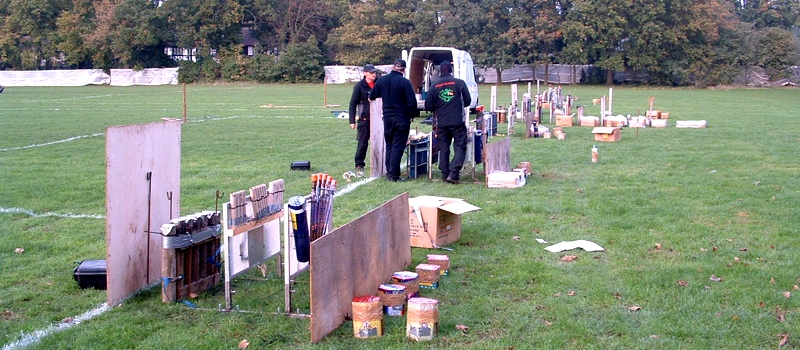 Quality
We visit every potential customer to gain an insight into the requirements and desired effect at the event/site. Once we have done this we will make our recommendation suggesting the ultimate firework display to maximise the effect required.
We fire all our shows with the FireOne Firing System. This allows us to use several front positions to fire the Fountain type ground effects and the low to mid height Roman Candles and Display Cakes with maximum effects.
If you would like your firework display choreographed to music, you can supply us with music tracks and we will edit these to fit the length of your display. We will send you the music to check and then choreograph the fireworks to the music using our FireOne Scriptmaker Software.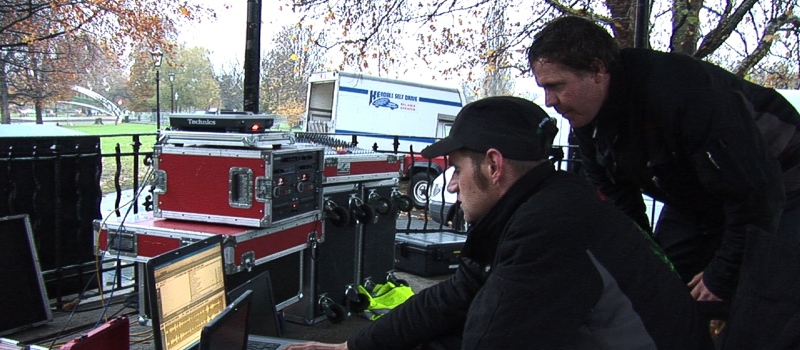 We can also add special effects to your display, such as our Dragon Flame Units. All these effects are integrated in to our Firing System, allowing us to build the ultimate show for you, all choreographed to music.
We can supply the music PA system via a Sussex based company with whom we have worked for many years. They deliver fantastic sound quality which is very important when firing fireworks to music and they understand what we require in a pyro-musical display. They have never disappointed us. It is essential that the music quality and sound levels match the size of the firework display so spectators won't only hear patches of music.
We aim to have an alternate firing location so we can cope with any wind direction.
We will supply you with a contract and site plan detailing the length of your firework display, the types of fireworks to be used and the total cost of the display.
Quantity
After we have fired the show for you, we go home with empty tubes (all the fireworks have gone). We are of course, or should be, stating the obvious, but this is the key for us to deliver value for money.
Whether you are an Event Manager or a bride to be, value for money is so important. For example, when you hire other services like sound systems, toilets or marquees, it is much easier to identify prior to the event what will be delivered for your money.
With fireworks it is harder to understand what you will be getting for your budget.
It is essential we understand the effect required by you and use the maximum amount of high quality fireworks and effects in your display, as your budget allows. It is possible to adjust the length of the show with lower budgets and still achieve the big "WOW" factor.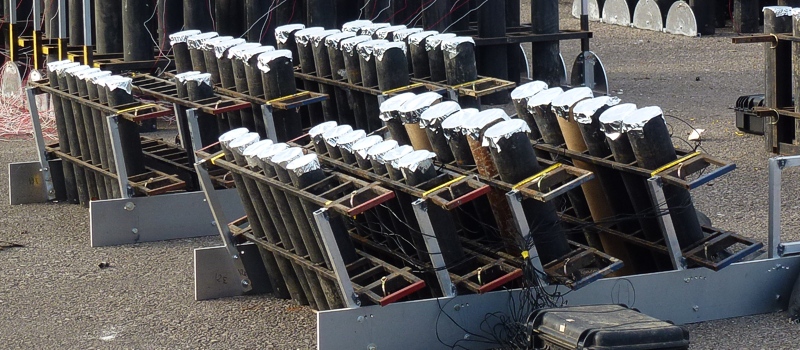 Please feel free to contact one of our previous customers to get an idea of the value for money that Dragon Fireworks offer.

An example of our work: Bedford Festival of Fire and Light