Fireworks Shop is open but please wear a face mask. We also offer a CLICK and COLLECT SERVICE (Free Delivery available on orders over £300 within 10 miles of KT16 0QW), Simply, Create a shopping list, send the list, either print your list or make a note of your list code, Come to the Shop, Collect your order, Pay on Collection at your car. We are open for collection 7 days a week 9am - 1pm and 2pm - 5pm.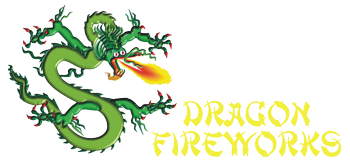 Legal and Training
TRAINING
All operatives are fully competent and trained to met current health and safety legislation and a will be attending the latest BTEC Courses for professional firers at Loughborough College, as soon as they become available.
INSURANCE
All Cat 3 firework packs are covered by full manufacturers product liability insurance.
LEGAL ISSUES
All displays fired by Dragon Fireworks Ltd Have Full Public Liability of 1 Million pounds which can be increased if required and employers liability of 10 million pounds.
STANDARDS
All Fireworks used by us conform to BS 7114: Part 2: 1988.