If you want to be able to purchase Fireworks in the future, Please respect your neighbours and their animals. Let them know what time you are firing your fireworks try to fire early as possible. Make sure the fireworks are the correct distance from your audience, they are secure and will not fall over. Put a shield directly in front of the fireworks, a wheelie Bin will work.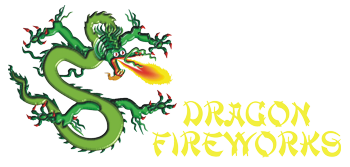 Video Clips
The video clips were produced for Dragon Fireworks by HeadSpin Videography
Festival of Fire and Light (Bedford)
Noah explaining the Festival of Fire and Light, with its special requirements, being set on water and a "close proximity" show, only 30m from the audience.
Barry explaining the computer controls for sound synchronisation and back-up.
Barry synchronising the lion's roar for "Narnia" at the Festival of Fire and Light.
Fireworks choreographed to Dr Who theme tune.
Even more flames, close up!
Flying Lanterns being released.
Headspin promotional movie.