We are a fireworks display company specialising in corporate and private firework displays and pyromusical events.
As a leading fireworks display company based in Surrey, Dragon Fireworks has devoted its time and experience to creating corporate firework displays and pyromusical events that are beyond the normal and are truly incredible. We pride ourselves on working with you to create a unique and magical experience for you and your audience.
A new dimension in special effects ...
We have taken the art of fireworks to a new level by incorporating exciting special effects.
These showcase all the usual fireworks that you will have seen at national and international events, plus we have created our own new and exciting elements that are exclusive to Dragon, including:
Dragon Flame! - your guests will see and feel the effects of this visual wonder!


Silver Wall - another visual effect that will both excite and amaze!

We are specialists at helping you create your own truly individual display because our skills stretch far beyond that of the normal standard expecteds of other fireworks display companies.
Flexible ...
Our success as a fireworks display company is down to our flexibility. We are happy to organise and produce displays for as little as £750, but also we are equally happy to do much larger and more comprehensive corporate firework displays and pyromusical events. In short, if you are planning that special party at home, or you are the MD of a large corporation planning a "Big one", then we can make your big party or corporate firework displays a success.
Detailed planning ...
Phone us. We arrange to meet, at your convenience, to discuss your needs. We will carry out a site visit and safety audit. A display-firing plan will then be produced and discussed with you in detail to ensure that you know exactly what to expect. We will discuss sound, the type of display and duration.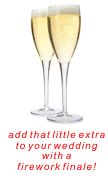 Adding music ...
Wonderful firework displays are, like the best pieces of music, dramatic, full of emotion, inspiring and timed to perfection. That's why we add music to our corporate firework displays to create memorable pyromusical events.
State-of-the-art technology...
Dragon has invested in the world's most advanced computer aided "firing system" This enables us to produce a display that is truly choreographed to music. Many companies will tell you that they can do this and to a certain extent, they can, but the firing system that dragon has adopted brings a new meaning to a "well timed bang"! And after all, that's what it's all about.
Noise sensitive ...
As a leading fireworks display company, we specialise in producing displays in difficult and noise sensitive areas. We are able to produce "breath-taking" displays and pyromusical events, choreographed to music, utilising "quiet fireworks"!
Based in Surrey, Dragon Fireworks can help you make that special day or corporate fireworks display
truly memorable, we are only a phone call away!


You may also be interested in our other businesses here at Wey Farm:
Wey Farm Outdoors
Here we are also building a product catalogue for all outdoors pursuits, including:
Tentipi® tents for sale and hire
camping accessories such as stoves, cooking equipment etc.
high-end beds & chairs from Nash
hunting clothing from Red Kettle
knives, axes, leather products from Casström
quality workwear from Carhartt
quadcopters, multi-rotors, aerial photographic equiment, transmitters, receivers etc.
Wey Farm Boarding Kennels & Cattery

All the staff at Wey Farm are genuine animal lovers. We love to see happy animals and aim to provide safe, comfortable and fun havens for your pets.

We stock a wide range of Royal Canin dog and cat foods which we feed to animals staying with us and sell in our shop.

Ottershaw Logs

Logs & coal for local delivery or collection
Equipment &amp accessories
Professional logging power tools
... and much more